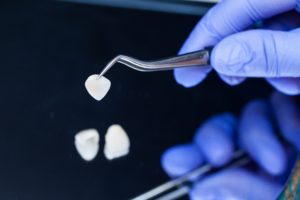 Are you embarrassed by chipped, cracked, or discolored teeth? You know porcelain veneers can give you the attractive smile you desire; however, they might be beyond your financial means. Porcelain is expensive, but you have another option. Believe it or not, dental veneers can be made of various materials to find a solution that fits your needs and budget.
What is a Dental Veneer?
A veneer is a custom-made shell that's bonded to the front surface of a tooth to instantly hide a variety of imperfections. You can eliminate the need for multiple procedures to improve the overall color, size, shape, and proportion of your teeth. As a result, veneers can be a cost-effective option if you have several issues you would like to fix, like gaps, chips, or stains.
What Materials are Dental Veneers Made Of?
There are two primary materials used to make veneers: porcelain and composite. Your cosmetic dentist will evaluate your smile and discuss your concerns to choose which one will help you reach your goals without draining your wallet. Although both are effective, there are differences between the two. Here's what you need to know to make the best decision for your smile:
Porcelain Veneers
Traditional veneers are made of porcelain because it closely mimics your enamel to create natural-looking results. Porcelain allows the ceramic shell to be molded to the ideal shape of your tooth. Not to mention, porcelain allows them to be thinner than ever to maintain more of your tooth's structure during the bonding process. The procedure is also minimally invasive for added comfort and convenience. While porcelain veneers are thin, they are durable. They can last for a decade or longer with the right aftercare, like maintaining your oral hygiene at home. Unfortunately, the procedure isn't reversible if you change your mind down the road.
Composite Veneers
Also known as bonded veneers, they are made of a composite resin material that covers the front end of a damaged tooth. The resin is customized to match the exact color you want. You'll enjoy quicker results and a less invasive procedure when compared to veneers made of porcelain; however, they don't have the same durability. Composite veneers usually last 5 to 10 years before needing to be replaced, but they are much more affordable than porcelain. You won't need to permanently alter your teeth to attain a picture-perfect smile.
Which is Right for Me?
Dental veneers are a great way to enhance unattractive teeth. Your cosmetic will perform a thorough consultation to create a personalized plan to achieve the smile of your dreams. You'll invest in an effective solution to give your self-esteem a boost.
About Dr. Dhavalkumar Rana
Dr. Rana earned his dental degree at New York University and has completed extensive training in many specialties, like cosmetic dentistry. He strives to provide personalized, high-quality treatments through compassionate care. He believes everyone deserves to enjoy excellent oral health and a beautiful smile. If you're interested in veneers, contact our office today to schedule your consultation.