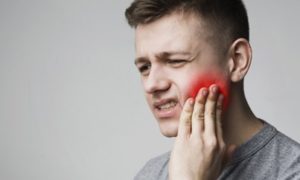 Whether it occurs as you bite into your favorite food or wakes you up out of a deep sleep, pain can capture your attention at any moment. Tooth pain can come and go in a matter of seconds, or it can be a constant throbbing ache. But even if it disappears, you should not disregard it. Here are 3 kinds of tooth pain that should not be ignored and how your dentist can help.
Pain When Eating
If taking a bite causes you to shudder in pain, it's definitely time to visit the dentist. The pain could be due to a fractured tooth. If this is the case, it could result in damaged pulp in or something more serious like an infection. Dental pulp is pulp the living part of your tooth that contains nerves, blood, and connective tissues. To fix minor cracks, your dentist may choose to fill the cracks with a tooth-colored bonding material. If the damage is more severe, a root canal may be needed.
Dental Sensitivity
Sensitivity when eating hot or cold foods can be the result of eroded enamel or swollen dental pulp. It's normal to experience sensitivity to foods or drinks with extreme temperatures within 4-6 weeks of a dental treatment. But if it lasts longer than that, it's time to make a dental appointment. If eroded enamel or the beginnings of decay are the cause, your dentist may be able to reverse the damage by strengthening and rebuilding your tooth using a fluoride treatment. But if you've developed extensive tooth decay, you may need a root canal.
Throbbing Pain
If you are experiencing constant pressure and pain, you may have an abscessed tooth. An abscess is the result of a bacterial infection. Without treatment, it can spread to your other teeth, your jawbone or other parts of your body. In order to prevent any additional discomfort or damage, it's very important to visit your dentist when you experience this kind of pain. Another cause could be a deep cavity. In this case, you may need a root canal. If there is too much damage, your only option may be an extraction, so getting to the dentist as soon as you feel any pain is important if you want to keep your tooth.
No matter what kind of dental pain you have, you should always make an appointment with your dentist immediately. Over-the-counter pain medication can help, but it's important to deal with the source of the problem before things get any worse.
About the Author
Dr. Dhavalkumar Rana has more than 10 years of experience in the dental field. Dr. Rana has mastered a variety of advanced dental procedures, including a periodontal honors program and dental implants. He continues his education on a routine basis through courses that keep him up to date on the latest technology and research. Dr. Rana and his team at TrueCare Dentistry provide all patients with personalized, high-quality treatment. Their services range from general cleanings and checkups to root canals and gum disease treatment. If you've been experiencing tooth pain, visit the website or contact the office at (469) 399-7288 to schedule an appointment.