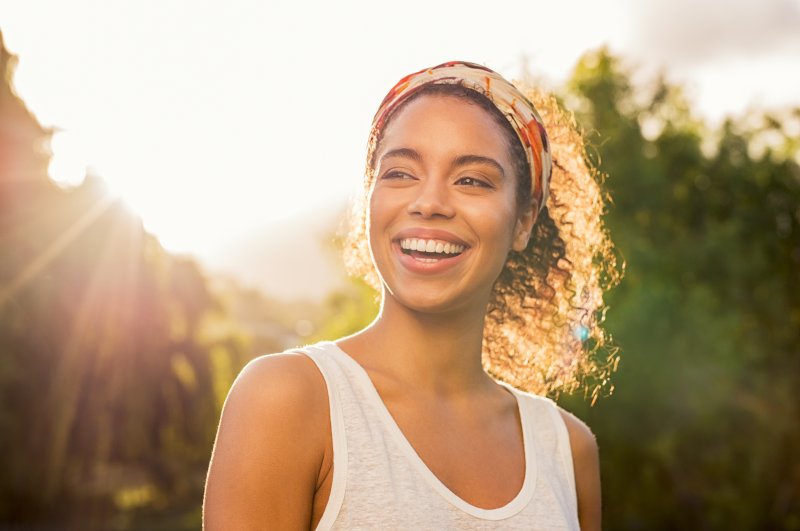 Lounging by the pool. Playing in the ocean waves. Mingling at a backyard barbecue. Spending time outdoors is what most people look forward to during summer vacation. However, it may surprise you to learn that enjoying the warm weather does more than create tan lines—it benefits your oral health as well! Not sure how sunshine is good for your teeth? Read on to find out how the summer sun can keep your smile healthy so you can have another reason to beam with joy these upcoming months.
Prevents Gum Disease
Not only is soaking up the warm sunshine a fun summer tradition but it's proven to be beneficial to gum health. Studies show there's a connection between lack of sunlight and gum disease. How? Well, we get vitamin D from sunlight which, in addition to regulating calcium, plays a role in managing gum inflammation. Low vitamin D levels causes cells to produce more cytokines, a protein that contributes to inflammation. Thus, increased sun exposure is a great way to lower your risk of periodontal disease.
Protect your gums and keep them healthy by getting lots of sunshine! Keep in mind that it should not replace your oral health routine. Instead, see it as a simple addition that can make a positive difference.
Vitamin D Keeps You Healthy
The summer sun has many benefits for your oral and overall health. The human body gains vitamin D from direct sun exposure, which regulates the calcium and phosphate levels in your body. It plays a crucial role in keeping your bones and teeth healthy.
Lack of this vitamin can lead to calcium deficiency, putting bones, teeth, and muscles at an increased risk of bone deformities and abnormalities. Since your teeth and jawbone are mostly comprised of the mineral, deficiency can lead to dental problems like underdeveloped teeth, tooth decay, and gum disease.
How Can You Stay Safe While in the Sun?
Put your dietary supplements and interventions aside this season—the summer sun provides nearly all the vitamin D intake you need!
But wait, don't run outside and spend your entire day under the sun just yet! You must be mindful of your skin's sensitivity to sunlight and avoid being out for too long to prevent damage. Taking the necessary precautions minimizes your risk of sunburn and cancer. So, lather up with sunscreen (don't forget your lips!), stay hydrated, and enjoy your vacation safely.
Spending more time out in the sun can do wonders for your health. Sit back, relax, and enjoy your vacation soaking up the sunlight—your teeth will thank you!
About the Author
Dr. Dhavalkumar Rana prides himself in providing the Mesquite community with personalized, high-quality dental care. He brings over 10 years of field experience and regularly pursues continuing education courses to stay up-to-date on the latest research and technologies in dentistry. Keep your smile healthy this summer and schedule a checkup. Visit our website or call (469) 399-7288.